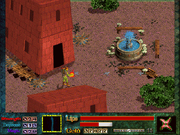 Pilgrim's Quest
is (supposed to be) the second installment in the
Stone of Balance
Trilogy (even though the trilogy was never completed with
SimonK
cancelling production of
Necromancer
). Pilgrim's Quest is the highest ranking D-Mod at the
Dink Network
with a score of 9.7 (out of 9.9).
[1]
Pilgrim's Quest was created by
SimonK
(Simon Klaebe) over the course of 2002 to 2003, with the final version (1.41) being released on the 25th November 2003. The D-Mod file is 33.69mb in size, which is generally considered to be very, very large for a D-Mod. In 2002, it was also voted the best download of October for that year, as well as the best Dmod of 2002.
Simon's description for his D-Mod states "Dink's holidays are interrupted when he comes across the remains of a brutal raiding party. He agrees to help the sole surviving woman complete her journy to the Monastery."
Ad blocker interference detected!
Wikia is a free-to-use site that makes money from advertising. We have a modified experience for viewers using ad blockers

Wikia is not accessible if you've made further modifications. Remove the custom ad blocker rule(s) and the page will load as expected.