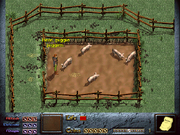 Welcome to Dink Wiki
This is a Dink Smallwood related wiki, here you can find definitions of different words and terms that appears in Dink Smallwood and its D-Mods.
Dink Smallwood
Edit
Dink Smallwood is a humorous computer role-playing game. It was first released in 1997 and was later released as freeware on October 17, 1999. It was developed by Robinson Technologies, at the time consisting of Seth Robinson, Justin Martin, and Greg Smith. The game has a small but constant fan following that continues to develop add-ons (D-Mods) for the game more than a decade after its release.
Important pagesEdit
Ad blocker interference detected!
Wikia is a free-to-use site that makes money from advertising. We have a modified experience for viewers using ad blockers

Wikia is not accessible if you've made further modifications. Remove the custom ad blocker rule(s) and the page will load as expected.